Germany: Editor 'voted twice' in European elections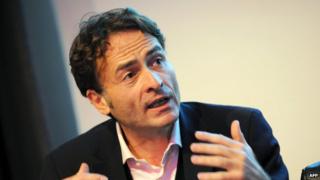 The head of one of Germany's most prestigious newspapers has revealed on live TV that he voted twice in the European elections, attracting ridicule and leading prosecutors to open an electoral fraud investigation.
Giovanni di Lorenzo, editor-in-chef of the highbrow weekly Die Zeit, was apparently unaware he'd done anything wrong when he told a talk show that because he has dual Italian-German citizenship he cast votes for both countries in the EU elections, the Bild newspaper reports. "I'm allowed to vote twice because I have two passports," he said on the ARD network's Guenther Jauch programme, explaining that he'd voted on Saturday at the Italian consulate in Hamburg, and then again on Sunday at a polling station in a local primary school.
But German Finance Minister Wolfgang Schaeuble, a guest on the show, shook his head. "It can't be right that someone can vote several times, and others only once." Di Lorenzo, who has a master's degree in political science, insists he was unaware of the rule. "If I'd known, I wouldn't have done it and of course I wouldn't have spoken about it on the programme," he was later quoted saying. "I'm truly sorry."
His troubles may not be over though. Prosecutors in Hamburg have launched an investigation into whether his actions constitute electoral fraud, a spokesman says, apparently after di Lorenzo was reported to the authorities by members of the Eurosceptic Alliance for Germany party.
Use #NewsfromElsewhere to stay up-to-date with our reports via Twitter.