Ukraine: Public plate-smashing as stress-release strategy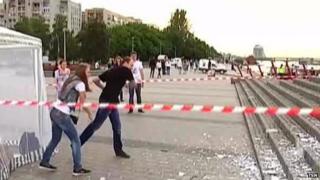 People have smashed hundreds of plates at a public event in the city of Dnipropetrovsk in eastern Ukraine, apparently as a way to relieve stress.
Passers-by were able to help themselves to stacks of crockery in the city's main square, and write a wish on the dish before hurling it at the ground, the Segodnya daily reports. Dnipropetrovsk is close to the Russian-speaking eastern regions of Luhansk and Donetsk, where violence has been escalating, and several plate-smashers made a wish for peace. One man, though, used his plate to tell Russia's president "Putin, good-bye", according to the TSN website.
Earlier, organiser Anna Svisenko told the Novosti Dnepropetrovska news website that in Ukraine it's seen as a good omen to break a mug or a plate, but she got the idea from a restaurant in Beijing which has a special room where guests can go to smash their plates.
It seems the technique of breaking plates as a way to relieve stress has already been tried by the city's residents. One woman, Lyubov Rendehevich, says she tries not to give in to the urge at home. "Sometimes you want to do it to get rid of stress. Sometimes I restrain myself - you don't want to lose the crockery."
Use #NewsfromElsewhere to stay up-to-date with our reports via Twitter.