Dubai: DubaiDino the shopping mall dinosaur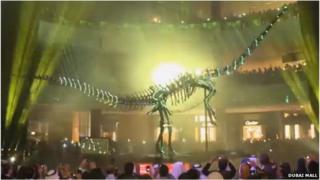 A competition to find a name for a giant dinosaur skeleton on display in a Dubai shopping centre has just been won by a local bank manager.
Dinosaur enthusiast Johara Al Bayedh's winning suggestion was DubaiDino, one of three names she submitted to the organisers via the #NameTDMDino hashtag. "It's just amazing to have a giant dinosaur fossil in Dubai," she tells The National newspaper. "It's not just educational, but will make people imagine how the world was back then," she adds. The competition attracted more than 6,000 entries.
The Diplodocus longus is 24m (78ft) long and 7.6m tall. The skeleton was found in Wyoming in 2008. Archaeologists think it is more than 155 million years old and, with about 90% of the original bones intact, it is one of the most complete fossils of its type yet found. Al Bayedh's prize is a trip to the Jurassic Park River Adventure in Florida, and she plans to take her sisters with her.
Use #NewsfromElsewhere to stay up-to-date with our reports via Twitter.