New Zealand: Landslide kills rare flightless parrot
By News from Elsewhere...
...media reports from around the world, found by BBC Monitoring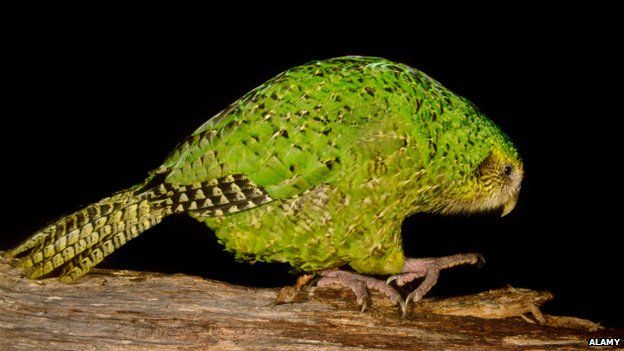 A landslide on a remote island nature reserve has killed Maggie the Kakapo, a critically endangered bird, reducing the size of the population to just 127.
Maggie's remains were found, buried deep in mud and debris, by rangers working for New Zealand's Kakapo Recovery Programme on Codfish Island off the country's South Island, TV3 News reports. The island is home to most of the kakapo breeding population and has been kept free of predators since 1977. The kakapo is perhaps the world's oldest living bird. It's also the heaviest type of parrot and can't fly.
"This is the first death attributed to the forces of nature since the programme began," says programme manager Deidre Vercoe. "And a reminder that they're wild birds living in a wild habitat." Vercoe says it is unfortunate to lose 36-year-old Maggie, a female with many years of breeding ahead of her. Kakapo can live for more than 60 years. Maggie's DNA has been collected and kept along with other samples, in the hope technology will one day allow it to be re-introduced into the future kakapo population, TV3 says.
Rangers fear the growth of the kakapo population may stall because it was a bad season for the low-hanging fruit on the birds' favourite evergreen rimu trees. There were 124 kakapo at the start of this year, which rose to 130 after six chicks hatched. After the death of Maggie and two other kakapo in recent months the population is back at 127.
Use #NewsfromElsewhere to stay up-to-date with our reports via Twitter.