Altered Image: Burma's Aung San Suu Kyi 'in fake headscarf'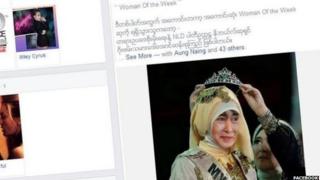 A deputy minister in the Burmese government has had to apologise after his wife spread a fake image of pro-democracy campaigner Aung San Suu Kyi wearing an Islamic headscarf.
The picture of Aung San Suu Kyi wearing a hijab and a tiara was shared by Khin Shandar Tun, wife of Deputy Information Minister Ye Htut, after it was posted by another Facebook user under the title "Woman of the Week", the news website The Irrawaddy reports. She also shared a post speaking out against tentative plans to teach the world's major religions at school.
Burma has seen a rise in anti-Muslim sentiment accompany political reforms, especially more relaxed rules around freedom of speech. There have been outbreaks of violence between the Buddhist majority and minority Muslims in the western state of Rakhine in the past two years - and sites such as Facebook have sometimes been blamed for spreading rumours and hate speech.
Facebook users appeared outraged by Khin Shandar Tun's shares. "It shows discrimination and taunting of Muslim women," one user says, adding, "People with this kind of shallow point of view will also do the same thing to Christians or whoever."
Ye Htut - known as the "Facebook minister" for his enthusiasm for social media - issued an apology on his own page. "We have to take care with the posts that we 'like' and share, for there may be hateful posts and defamation," he writes. "Apologies to those who respect and support Daw Aung San Suu Kyi and to those who visit my Facebook for my failure."
Use #NewsfromElsewhere to stay up-to-date with our reports via Twitter.