Iran: World Cup broadcasts 'banned in Tehran cafes'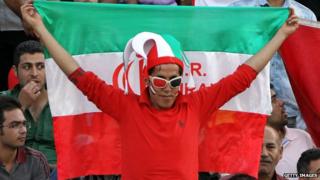 Iranian football fans have been left with fewer options for watching Fifa's World Cup matches after police in the capital Tehran banned cafes and restaurants from screening the games two days before the tournament was due to start.
The police ruling even applies to Iran's own matches, the Afkar News website reports. The Union of Tehran Cafe Owners has told members not to switch on their TVs when World Cup matches are being broadcast - or to make sure TVs are set to a different channel. Cafe owners have reportedly been sent texts saying they have to close by midnight.
But there are reports that some eateries are planning to defy the guidelines and screen the games anyway - some have even announced schedules for the month-long tournament, the ISNA news agency says. A different union - this time a group representing restaurants - suggests that owners can take the risk of screening the games as long as they "maintain crowd control".
The latest ruling comes after police said mixed-gender cinemas wouldn't be allowed to show World Cup matches, and the Iranian Cinema Owners Association says it won't hold separate screenings for men and women either.
Fans aren't completely out of luck though - the games will still be shown on Iranian TV and some public parks are likely to show the Iranian games on large screens. Iran kicks off with a game against Nigeria on 16 June, and is due to play Argentina and Bosnia-Hercegovina later in June.
Use #NewsfromElsewhere to stay up-to-date with our reports via Twitter.