Iceland: Mosque plan supporters 'register as Muslims'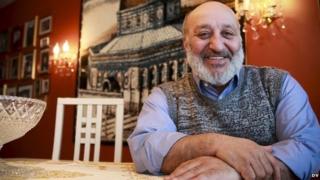 People in Iceland have been joining the national Muslim Association as a protest against right-wing opposition to a new mosque planned for the capital Reykjavik, it seems.
"I've received emails from people asking how they can register. I was a bit surprised, but very pleased," association founder Salmann Tamimi tells the Iceland Review website.
The upsurge in interest apparently stems from a row over the council's decision to grant land for the mosque. Opponents say it's a misuse of public land and they're defending the established church, while critics accuse them of bigotry.
Iceland's 770 registered Muslims currently worship in a room on the third floor of an office block, and waited 14 years before getting permission to build the new mosque in 2013.
A leading journalist, Gunnar Smari Egilsson, says he might join the Muslim Association so that, as Icelandic law requires, it receives a small donation from his taxes. In a Facebook post he says joining would "help its members protect themselves from the attacks and lies of the Progressive Party and its supporters", whom he accuses of a "xenophobic lurch". But Prime Minister and Progressive Party leader David Gunnlaugsson rejects accusations that his supporters are flirting with racism, saying instead that they simply want an "open debate" .
Icelandic law allows membership of only one religious association at a time, and Mr Tamimi says he'd prefer that people didn't have to quit the national church simply to show support for the mosque. "There's room in Christianity to fight for the human rights of others," he says.
Use #NewsfromElsewhere to stay up-to-date with our reports via Twitter.