Saudi Arabia: Phone bills 'cost 30% of income'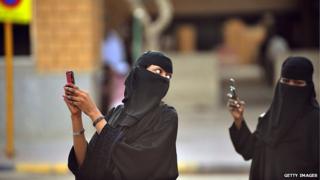 Saudis have been spending a third of their personal income on phone and internet bills, it's been reported.
Figures from the country's Consumer Protection Association show that on average people spend 30% of their earnings on staying connected, the Arab News website reports. But others shell out more than half their income, in some cases up to 70%, just on their telecoms bills. Nearly three-quarters of the Saudi population uses a smartphone, according to a Google study.
The relatively high cost of making phone calls could help explain the figures, according to association head Nasir Al-Tuwaim. Saudi Arabia has some of the most expensive call charges in the world, at around 0.35 Saudi Riyals (about 6p) per minute, he says. People are also reportedly unsure about internet and mobile roaming charges.
Saudi Arabia is known to be an internet-hungry nation, as social media allows more freedom than many Saudis have in everyday life. In 2013 the country's Twitter users generated about 150m tweets per month, a 300% increase on the previous year, the Saudi-based social media consultancy Social Clinic Social Clinic reported in January.
Use #NewsfromElsewhere to stay up-to-date with our reports via Twitter.