Japan: Students give bees to tsunami-hit farmers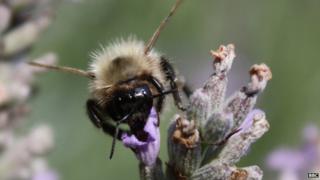 A group of Japanese students are donating honeybees to areas devastated by the March 2011 earthquake and tsunami in a bid to help local farmers, it's been reported.
Students at the Yuki High School in Hiroshima have been breeding bees for four years, using abandoned land to grow plants which attract the insects, Japanese newspaper Mainichi Shimbun reports. The school began donating the bees to farmers in Miyagi province after a group of students visited the area in 2011 as part of a national competition on agriculture. There they learned that the livelihood of strawberry farmers in the area was threatened by a sharp fall in the bee population since the 10m (33 ft) high tsunami hit the area, tearing up farmland in its wake.
As pollinators, honeybees are a key element of the food chain and essential to the cultivation of fruits and vegetables. The British Beekeeping Association estimates that around one third of the food we eat would not be available without bees.
The students will make the 1,100 km (683 miles) bus ride to Miyagi to add to 30 boxes of honeybees already donated. "I hope the project encourages farmers in the disaster hit areas," third-year student Mizuki Kawakami said.
Use #NewsfromElsewhere to stay up-to-date with our reports via Twitter.