China: Army doubles entertainment budget to boost morale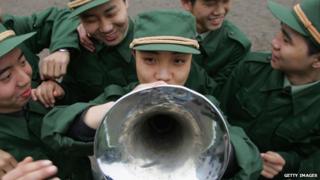 Chinese soldiers are to be given jukeboxes and musical instruments in official attempts to "boost combativeness", it appears.
A budget increase for the People's Liberation Army doubles the amount that can be spent on entertainment equipment in order to "enrich the troops' cultural life", the official PLA Daily newspaper reports. The new equipment, which also includes cameras and loudspeakers, reflects Chinese President Xi Jinping's efforts to improve the conditions of more than two million grassroots soldiers.
An official document says that by addressing "soldiers' spiritual and cultural demand", the budget increase would "strengthen the army's sense of cohesion and fighting capacity". The overall defence budget is due to rise by 12% this year, the South China Morning Post said.
The programme to improve morale among troops comes amid an official drive to end lavish entertainment among officials and civil servants, who have been accused of over-spending on holiday gifts and frequenting expensive high-end clubs.
Use #NewsfromElsewhere to stay up-to-date with our reports via Twitter.