Iran: Police use new tactics to confiscate satellite dishes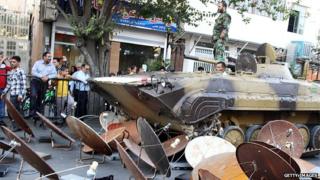 Iranian police have resorted to new tactics to confiscate illegal satellite dishes, it seems.
Having tried methods which involve varying degrees of danger for police officers, officials are now parking cherry-picker cranes in front of apartment blocks and checking balconies and alcoves, one by one. According to the Saham News website, which is owned by the reformist National Trust political party, the cranes were spotted in the country's second largest city of Mashhad and appear to be a new tactic in Iran's periodic attempts to confiscate dishes.
In the past, Iranian police have used helicopters and abseiling down the side of buildings to find illegally-owned reception equipment which is mainly used to watch foreign TV channels.
Private ownership of satellite dishes is illegal in Iran, with ministers criticising satellite TV and social media as "the chief sources of anti-Islamic models", Mehr news agency reported in 2013. According to a report by Dutch-based Radio Zameneh, around 60% of households in Tehran still own a dish, and if it is confiscated, residents often simply go out and buy another.
Use #NewsfromElsewhere to stay up-to-date with our reports via Twitter.