Canada: Armed forces rank changes to cost millions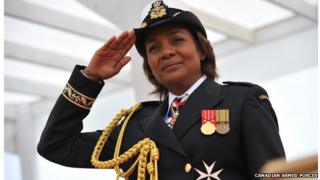 A move by Canada's government to return its armed forces to World War Two-era ranks and insignia will cost the country millions, it's been reported.
Critics have told the broadcaster CBC that the government's plan is a waste of money at a time of fiscal belt-tightening. According to figures released by the Defence Department, the move will cost 4.5m Canadian dollars ($4.2m; £2.4m), the bulk of which going toward new jackets that army officers will wear for formal events and parades. A decision to add a curl to the top bar of naval rank insignia will cost 1.35m Canadian dollars ($1.25m; £732,000), the broadcaster said.
It's part of a policy of restructuring that was launched in 2011, and as a result, army officers will no longer wear gold-coloured bars sewn to their tunic sleeves or epaulettes. Instead, they will revert to the British-style system of pips and crowns last seen on Canadian uniforms in 1968.
Opposition MP Jack Harris told CBC that the change was an unnecessary throwback that comes at a time when veterans and current personnel are "crying out" for help with housing and health issues. However, Johnna Quinney, press secretary to Defence Minister Rob Nicholson, said that it would honour the traditions of the military, "strengthening the link between today's members and the previous generations of heroes who bravely served our country".
Use #NewsfromElsewhere to stay up-to-date with our reports via Twitter.