Ukraine: Wedding photos reveal weapons culture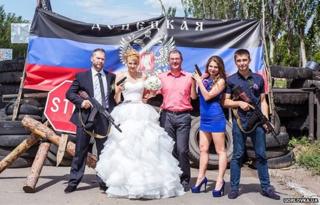 A young couple marking their wedding in the war-torn east Ukrainian mining town of Horlivka have highlighted the region's gun culture by posing for photos at a pro-Russian separatist checkpoint.
Alexei Shevchenko, his bride and their witnesses were photographed holding pistols, automatic weapons and a bouquet of flowers in front of the red, blue and black flag of the breakaway Donetsk People's Republic. Mrs Shevchenko posted the photos on social media, the local Gorlovka.ua website said. According to BBC Monitoring's Ukraine analysts, the wedding pictures are a sight indicative of the weapons culture in the strife-hit east of the country. Small arms have become commonplace in the region, which is hoping to break away from Ukrainian rule, and many people carry guns even to important family occasions such as weddings.
Korrespondent magazine says bridegroom Alexei is a friend of separatist militia leader Alexander Sapunov, who briefly ran Horlivka (known as Gorlovka to its ethnic Russian residents) before resigning in April. He disappeared a month ago, claiming in a video that he and his family faced death threats.
Life is reportedly tough in Horlivka where both pro-Russian militias and Ukrainian troops roam the countryside, and water supplies are unreliable. The young couple haven't said where they plan to spend their honeymoon.
Use #NewsfromElsewhere to stay up-to-date with our reports via Twitter.