Russia: Golden phones go on sale for Putin supporters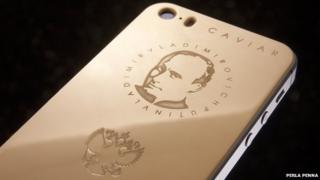 An iPhone covered in gold and bearing an image of President Vladimir Putin is going on sale in Russia, it is reported.
It is marketed under the brand name Caviar, but the company that makes the gadget also calls it simply "Putin phone", TJournal news website reports.
The back of the phone is made of 18-carat gold, and below an engraved portrait of President Putin there is also a quote from the Russian anthem. The limited-edition phone is on sale for 147,000 roubles (£2,500; $4,300).
It is made by Perla Penna, an Italian company which is now Russian-owned and headquartered, but still employs Italian designers and jewellers.
In a press release, the firm says that the gadget is aimed at "patriotic senior government officials and top executives".
As many of them are known to enjoy holidaying abroad and even own property there, one particular feature of the Putin phone will come in handy. "Place a phone with a picture of Putin on it on a bar counter somewhere in Nice or Monte Carlo, and you can expect to get priority service," the Perla Penna press release goes on. Why? Because "the worried international community sees the Russian president as an embodiment of power, robustness and strength, an uncompromising and aggressive figure ready to take drastic steps".
There has been a surge in support for Vladimir Putin in Russia following the country's annexation of Ukraine's Crimea earlier in 2014. It is reflected in rocketing sales of merchandise such as T-shirts with his portraits, but relations with the West have soured.
Over the past months, the Russian media has been giving the impression that Italy is among the more Russia-friendly nations of the West, and Vladimir Putin is known to be friends with Silvio Berlusconi, the former Italian prime minister.
Use #NewsfromElsewhere to stay up-to-date with our reports via Twitter.