India: Police order couples to marry after hotel raid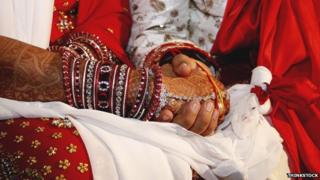 Police in the Indian state of Bihar are reported to have married off two couples caught having trysts in a hotel under assumed names.
"We went to the hotel in search of a runaway couple. Instead, we found these two couples registered as married under false names," Bhagalpur Town Police Inspector Kanhaiya Lal told The Hindustan Times. They had been booking hotel rooms in the town for assignations for some time, it seems. Officer Rita Kumari "convinced the lovers that the only way to escape the stigma attached to being caught in such a manner was to get married".
One young couple was a railway clerk from neighbouring Amarpur and a student at a women's college in Bhagalpur. The other - a local man and a girl from nearby Banka - are related by marriage. The twin weddings took place at the Kupeshwarnath Annapurna Temple opposite the police station.
"It was a simple wedding ceremony performed according to Hindu rituals. Relatives of the two couples were present. No dowry was given or taken, making it an ideal marriage," said Inspector Lal. The paper did not record the reaction of the couples or their families.
Use #NewsfromElsewhere to stay up-to-date with our reports via Twitter.