Tonga wants to swap islands with Fiji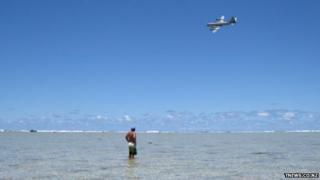 A minister in Tonga is proposing to swap islands with Fiji in an attempt to end a long-standing dispute.
Tonga's land minister Lord Ma'afu suggests ceding the Minerva Reefs in return for Fiji's Lau Islands group. He told the Tonga Daily News, "We have a lot of our own people with Lauan ancestry and a lot of Lauans with Tongan ancestry... our history dates back a long, long time. So in good faith I will propose to Fiji's foreign minister that they can have Minerva Reef and we get Lau in return". Lord Ma'afu is named after a Tongan prince who tried to conquer Lau in the 19th century.
Possession of Minerva Reefs grants rights to possibly lucrative undersea minerals. Tonga annexed the atolls in 1972 to forestall attempts by US, Australian and other prospectors to develop it. Fiji does not recognise Tonga's claim to maritime waters around the reefs, and filed a complaint with the International Seabed Authority in 2005.
Fijian foreign ministry permanent secretary Amena Yauvoli says the government will await Tonga's formal proposal, but the provincial council in Lau is sceptical. Spokesman Joeli Nagera told the Fiji Times, "We don't know anything about it. Lord Ma'afu may have said that off the record, but you can't exchange the Lau Group just like that".
Steve Ratuva, an expert on the Pacific islands at Auckland University, is more forthright about problems with the proposal. "You're talking about more than half the total sea area of Fiji. So Tonga has a lot to win. It'll probably triple the size of Tonga and halve the size of Fiji". He told Radio New Zealand the deal is "so one-sided" there's a danger it could be seen as a "political joke".
Use #NewsfromElsewhere to stay up-to-date with our reports via Twitter.