Uganda: Police officer shoots 'aggressive' tortoise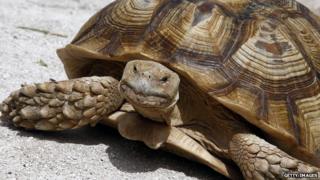 A police officer in Uganda has reportedly shot a tortoise dead after being attacked by the "aggressive" creature.
The incident happened in the Nebbi district in the north of the country near the Congolese border. The officer - named as Charles Onegiu by the New Vision newspaper - said the animal entered his home and attacked him while he was enjoying a post-work cup of tea. "I tried to scare it but the tortoise became very aggressive. I took a stick to chase it but it instead became more violent," he told the paper. After attempting to fend off the tortoise with a plastic chair, he said he "instinctively" drew his firearm and shot it dead. A local Christian group later prayed for Onegiu, "before burning the dead reptile to ashes."
Contacted by New Vision, Nebbi district police commander Onesmus Mwesigwa said that his officer's extreme reaction to the attack may have been down to local superstitions "where people think 'somebody is after me'". After consulting local elders and police colleagues, Mwesigwa appealed for calm "from the residents and police officers, maintaining that their lives are not in danger as they may have assumed", New Vision reported.
Nervousness among local law enforcers could be explained by tribal clashes in the border area with DR Congo, which have lead to dozens of deaths in recent days, according to Al-Jazeera. Additionally, Uganda is currently in a heightened state of security following "specific threats" against the country's main Entebbe Airport.
Use #NewsfromElsewhere to stay up-to-date with our reports via Twitter.