Russia: Army shows off heavy metal at rock festival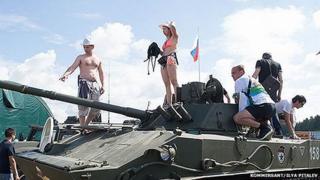 Revellers at a Russia's biggest rock festival had a chance to sample some military hardware between musical acts at the weekend, it seems.
People eagerly took the opportunity to "drive tanks and learn how to defend Russia", Russian news channel Life News reported. The pro-Kremlin station said the tanks were an "emerging tradition" at the Nashestviye open-air festival, which has been going since 1999. Ten years ago, the defence ministry-sponsored event moved from around Moscow to the Tver Region, an area of lakes and historic towns to the north.
People were "thrilled to see so much military hardware" at the festival, NTV reported, adding that girls in bikinis took photos of the tanks while Russian troops politely explained how the equipment worked in combat conditions.
Not everyone thought that patriotism and rock music were a good mix, however. Russian rock star Boris Grebenshchikov told his audience at the festival, "The defence ministry and rock music have come together, congratulations! Can you imagine what strange hybrids we can expect in the future? So take care of yourselves, don't allow yourselves to accept things like that."
A wave of nationalism and patriotic rhetoric has been on the rise in Russia in recent months since tensions flared up with Ukraine.
Use #NewsfromElsewhere to stay up-to-date with our reports via Twitter.