France: Petanque championships hit by death threats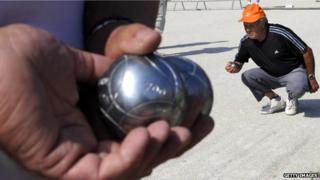 One of the world's most prestigious petanque championships has been hit by scandal after one team pulled out complaining of death threats, it is claimed.
The incident reportedly took place when a team from the northern town of Marchiennes was winning a match of petanque - a form of boules - at the World Petanque Championship in Marseille, the southern city seen as the game's cradle. But when the trio from Marchiennes were 11-6 ahead, their adversaries - who were from a town just outside of Marseille - allegedly threatened to kill them if they reported their win to the referees.
"They threatened to kill us, rip our heads off," Anthony Laruelle, one of the northerners, told France 3 TV. "They said that they would crack the heads of the three of us."
One of the southerners then strolled over to the referees' table and reported their supposed win, according to Mr Laruelle. The stunned petanque players from Marchiennes decided to pack up their boules and board the next train home. The team from the South lost in the next round, France 3 TV reports.
"This sort of incident happens quite often in petanque," the tournament's organisers are reported to have said.
Others take a slightly different view of the game. "Petanque is a game many in France might associate with daytime boozing and elderly men," says The Local website, "but some take this quintessential Gallic pastime quite seriously, it seems."
The traditionally French game of petanque has enjoyed a surge in popularity worldwide in recent years. The World Championship in Marseille reportedly brings together 13,000 players from 20 countries, as well as some 150,000 spectators.
Use #NewsfromElsewhere to stay up-to-date with our reports via Twitter.