Myanmar: No map tattoos below waist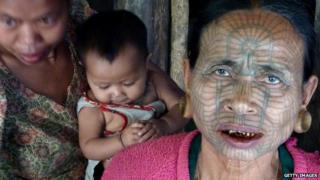 Myanmar citizens have been told that tattooing a map of the country below their waist could earn them a three-year jail sentence.
A regional judge also warned that it could attract a fine equivalent to $300 (£175), according to Mizzima website.
"We can accept this symbol tattooed on the upper part of the body because it might demonstrate the wearer's pride in their country, but a tattoo on the lower part disgraces the country's pride," said Mandalay Region Advocate-General U Ye Aung Myint. He was speaking at a Mandalay Region assembly meeting convened to discuss recent communal violence in the area.
The advocate-general had been asked to clarify if any action could be taken against those with a map of Myanmar tattooed on "an inappropriate part of the body".
U Ye Aung Myint replied that anyone with such a tattoo could be prosecuted under the Union Seal Law, which is designed to protect all parts of the country's coat of arms, including the map of Myanmar at its centre, the official said.
"Although the Myanmar map is an abstract image it has gracefulness and we should prevent such disgrace befalling the country," U Ye Aung Myint said.
Use #NewsfromElsewhere to stay up-to-date with our reports via Twitter.