Copenhagen offers free bike puncture repairs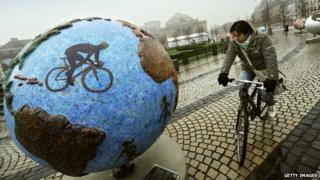 Copenhagen city council has launched a free bike repair service in an effort to get even more people onto bicycles, it is reported.
A bike mechanic can now be despatched to the Danish capital's more remote housing estates, where locals tend to use cars or public transport to get to work, The Copenhagen Post newspaper reports. The repairer will fix the residents' bikes and repair punctures free of charge, so there will be no excuse for leaving the bike in the garage, the paper says.
The project is part of a wider scheme aimed at reducing car traffic in the capital. Some 5m Danish krone (more than £500,000; $900,000) has been earmarked for the scheme in 2012-15, reports say.
But not everyone is in favour the new project. "It's a strange thing to spend tax money on. Repairing punctures is not one of the city's central services," Copenhagen City Council member Jens-Kristian Luetken told Metroxpress newspaper. The money would be better spent on education or services for the elderly, he suggested.
But Morten Kabell, Copenhagen's deputy mayor for technical and environmental affairs, was unswayed. "Of course it isn't one of the city's central services to repair punctures," he was quoted by Metroxpress as saying. "However, it's our responsibility to ensure clean air for Copenhageners and maintain their health."
The Danish capital is already seen as one of the world's most cycle-friendly cities, where around 60 percent of all residents take the bike to and from work or school every day, The Copenhagen Post says.
Use #NewsfromElsewhere to stay up-to-date with our reports via Twitter.