Russian MPs get their own social network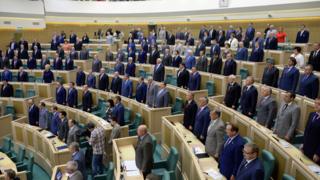 Russia is launching a social network for members of parliament and local councils, it is reported.
Members of the public will only be able to read their exchanges online, but not contribute to them, Izvestia daily says. It adds that parliamentarians can also invite lawyers, economists and pundits to join the Parliamentary Portal, as it's called.
The aim is to improve cooperation between MPs and councillors at a time when "the political agenda is very difficult", says the lower house's deputy speaker, Igor Lebedev, who leads efforts to set up the social network. There are some 245,000 members of local councils and assemblies across Russia, and it is vital that they talk to each other, Mr Lebedev adds.
Given the large number of potential users, "serious steps" are being taken to make sure there are no fake accounts, Izvestia writes. To set up an account on the social network, MPs and councillors will have to provide administrators with their parliamentary ID number and also links to their personal web pages. Once a member loses their seat, their account will be deleted.
The project has been met with scepticism and even mockery from some quarters in Russia. "In addition to special canteens, hospitals and holiday homes, they are now setting up a social network for MPs. What the heck," said one Twitter user with thousands of followers.
"That's right, the ruling elite needs to be separated from the impoverished people on the web, too," said Sandy Moustache, a political satire account.
Use #NewsfromElsewhere to stay up-to-date with our reports via Twitter.