Swiss traveller traverses Iceland by tractor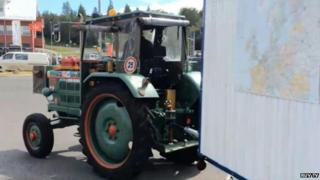 Iceland has welcomed a Swiss man who is making a grand tour of Europe - on a 54-year-old tractor.
Reiner Huttasch, a theatre technician from the town of Bellach, is making his retirement dream come true by travelling around Europe on his Buhler tractor, made in Switzerland 54 years ago. He reached the Icelandic port of Seydisfjordur by ferry from Denmark, and plans to circumnavigate the North Atlantic island's scenic coastal road.
So far he has spent 10 weeks driving through Germany and Denmark, and plans to move on to Britain, Belgium and France before returning home. Mr Huttasch expects the round journey to take six months, and told Icelandic TV he is spending a full six weeks of this in Iceland because the elderly tractor is slow - it averages 20km/h. He spends the entire time on the road and has no need for hotels, as he lives in a small wooden house that he tows behind the tractor. He built the home over the course of three years, and services the tractor himself.
He told the Swiss newspaper Grenchner Tagblatt that he's "always been fascinated by the far north, with its untamed nature. I'd rather spend my summer holidays in a thick sweater than in swimming trunks on a beach in Spain". Asked whether his family minded his absence, he said, "On the contrary, they were constantly asking when I'm going to leave."
Mr Huttasch's travels have aroused considerable interest on Iceland's media, with the tourism guide association even putting his story up on its its website. Not everyone is delighted by his visit, though. One reader complains that Europeans in large off-road vehicles, equipped with sleeping quarters and their own food, bring "nothing to our economy and often leaving deep tracks in our fragile landscape". Others point out that plenty of Icelanders go off-road themselves, and the antique tractor is unlikely to leave the well-trodden path.
Use #NewsfromElsewhere to stay up-to-date with our reports via Twitter.