Saudi Arabia: An even louder call to prayer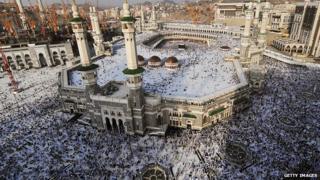 An extensive sound system has been installed at Islam's holiest site to make sure worshippers can hear prayers several miles away, it's been reported.
About 4,000 loudspeakers have been set up in and around the Grand Mosque in Mecca, meaning that pilgrims during the peak Ramadan and Hajj seasons experience "first-class sound quality", the Jeddah-based Arab News reports. According to Faras Al-Saadi, the mosque's operations director, the speaker system has a range of 9km (5.6 miles), and is windproof, "meaning sound will remain crystal clear even in rough weather".
In addition, green and white lights have been installed on top of the Mecca Clock Tower to inform the faithful of prayer times. At 601m (1,972ft) high, the Abraj Al-Bait clock tower is the third tallest free-standing building in the world, and the lights can be seen 30km (18.6 miles) away, "helping worshippers with hearing difficulties", Arab News says.
In April, Mecca authorities say they expected a 15% rise in the number of Ramadan visitors this year, with the Grand Mosque doubling the floor capacity of some areas, and installing an additional 3,928 toilets for the comfort of its visitors, Arab News said. Around 1.5 million visit Mecca during Ramadan, with even more expected to perform the Hajj pilgrimage in early October.
Use #NewsfromElsewhere to stay up-to-date with our reports via Twitter.