China: Posters warn of bearded terrorists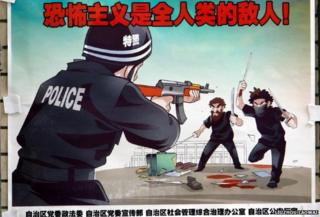 Posters have appeared in a southern Chinese city warning citizens against helping bearded terrorists, it appears.
The images were posted in public places in Liuzhou in south-central Guangxi region, and were spotted by local blogger Liuzhou Laowai. Describing the posters as "crude" and "racist", the writer says they show the stereotypical image of ethnic Uighur militants from Xinjiang province, who have been blamed for a number of deadly attacks across China.
One poster, showing a police officer confronting two bearded men armed with swords proclaims "Terrorism is all mankind's enemy", and is a clear reference to attacks at transport hubs which have claimed a number of lives. Another warns against helping suspects to flee the country, showing a concerned citizen dialling the 110 emergency number, as a rough-looking minibus driver accepts money from shifty bearded men for a ride. Authorities in Guangxi's neighbouring Guangdong province recently offered rewards of up to $80,000 (£47,000) for tip-offs on terrorist activity.
There's rising concern in China about the violent campaign by Uighurs which has spread across the country, manifesting itself mainly in attacks on citizens at railway stations and other public places. The mainly Muslim Uighur people see themselves as closer to Central Asia, and object to mass immigration of Han Chinese into Xinjiang province and the curtailing of their rights. Beijing, on the other hand, says Uighur militants are waging a violent campaign for an independent state through terrorism.
Use #NewsfromElsewhere to stay up-to-date with our reports via Twitter.