China: Beijing marathon runners in 'public peeing' ban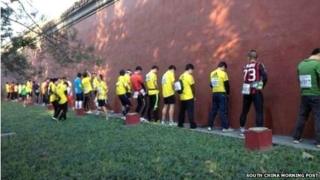 Organisers of the Beijing Marathon have said runners will be disqualified if they're caught urinating in public, apparently after dozens of people relieved themselves on the red walls of the Forbidden City last year.
Contestants who exhibit "uncivilised behaviour, such as relieving oneself in public and littering" at the 42km (26 mile) race in October will be banned, the organising committee says on its website, and participants who break the rules may face extra punishment from the Chinese Athletic Association, says the South China Morning Post. The ECNS news site reports official advice for runners explicitly warns against urinating on "red walls".
Pictures of runners lining up to relieve themselves on the former imperial palace - a UN world heritage site - caused public outrage last year. But veteran marathon runners say unscheduled loo breaks are tolerated at races across the world, and former participants say that in Beijing it had almost "become a tradition" to urinate on the red walls. Plus, there were reportedly very few toilets catering to more than 30,000 runners taking part in the marathon. Organisers now say they will ensure enough toilets are available this year.
Use #NewsfromElsewhere to stay up-to-date with our reports via Twitter.