Colombia: National theatre reopens after refurbishment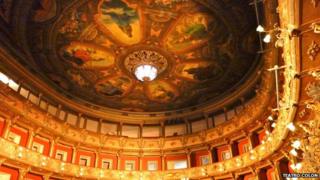 Colombia's Teatro Colon, the oldest opera house in South America, is opening its doors after more than six years of restoration, reports say.
The theatre's official reopening takes place across three evenings on 25, 26 and 27 July with performances from Colombian dancer Fernando Montano, a soloist at the Royal Ballet in London. Montano has invited underprivileged children to attend the dress rehearsal on 24 July, the Colombia Reports website says.
The grand old theatre in Bogota's colonial district closed its doors in 2008 so that the building could undergo a number of important upgrades. State-of-the-art sound and light technology was donated by the government of Japan, and the Italian government sponsored the work of one of its most eminent restorers, Ruggero Martines, the Bogota-based City Paper website reports.
The 122-year-old theatre has also had seismic reinforcements fitted, and now offers disabled access as well as a new electrical grid for better lighting. The building's opulent ornamentation has been cleaned and re-scuplted, but correspondents say the most impressive achievement is the meticulous restoration of the ceiling mural.
Use #NewsfromElsewhere to stay up-to-date with our reports via Twitter.