South Korea: Seoul city workers 'can nap at work'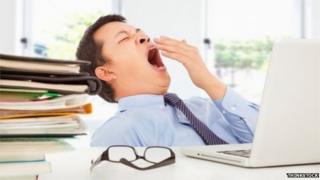 The city government in Seoul, South Korea, will reportedly let workers take an afternoon nap, in an effort to boost productivity during the summer months.
From 1 August, Seoul Metropolitan Government (SMG) employees will have the option to sleep for an hour between 13:00 and 18:00, as long as they make up the time by arriving to work early or leaving late, the Korea Times reports. It is thought to be the first time such a scheme has been introduced in the country, the paper adds. "Employees can use lounges, conference rooms and other places to rest," a spokesman for City Hall says. "The city government will spend more money next year to create more rest areas for employees."
It isn't clear how many people will actually take time off to snooze because they have to make up the lost hour of work - and many people already use their lunch breaks to sleep. If employees do want a nap, they will have to let their supervisors know in the morning, and arrive at 08:00 or leave at 19:00, since all SMG employees are required to work from 09:00 to 18:00, the Korea Observer says.
Use #NewsfromElsewhere to stay up-to-date with our reports via Twitter.