China: Giant yellow rubber duck swept away in flood
By News from Elsewhere...
...media reports from around the world, found by BBC Monitoring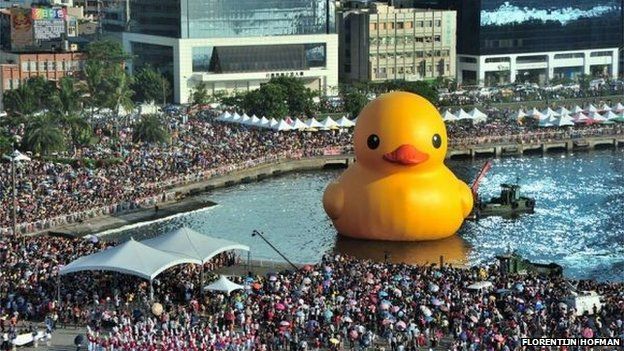 A giant yellow rubber duck floating on Nanming River in China's south-west Guizhou Province has reportedly been swept away by floodwaters just months after it exploded on display in Taiwan.
The 18m (59ft) sculpture by Dutch artist Florentijn Hofman disappeared around 19:00 local time on Wednesday, after the city saw days of heavy rainfall, the Taiwan-based Want China Times reports. Even though the duck weighs 1 tonne, and was sitting on a 10 tonne metal platform lashed to the riverbed with steel wires, it was easily dislodged by the storm. "The duck flopped over and was flushed away really quickly by the torrential flood," exhibition co-ordinator Yan Jianxin tells the Wall Street Journal's China Real Time blog. "It disappeared right in front of me."
It's the latest mishap for the yellow duck, which burst while on display at a port in Taiwan and deflated during its exhibition in Hong Kong. The duck has been on tour since 2007, popping up in cities including Sydney, Sao Paulo and Baku as a way of bringing people together.
Use #NewsfromElsewhere to stay up-to-date with our reports via Twitter.