Italy: Excavation of Imperial Forum funded by Azerbaijan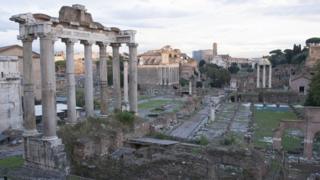 The government of Azerbaijan has reportedly donated 1 million euros (£790,000) to the Italian capital, Rome, so it can begin excavating the city's Imperial Forum.
The plans, spearheaded by Rome Mayor Ignazio Marino, are to eventually create an archaeological park in the middle of the city by linking the Imperial Forum to other Roman forums built by the emperors Augustus, Caesar, Trajan and Nerva, the Ansa news agency reports.
The donation from Azerbaijan would fund the first phase of the project - digging for artefacts under pedestrian street Via Alessandrina - and connect the Imperial Forum to Trajan's Forum for the first time. "We believe we'll find sculptures and key architectural fragments," says city archaeology suprtintendent Claudio Parisi Presicce. Meanwhile, the city will continue fundraising and the mayor says he is in contact with Italian and international philanthropists.
Mayor Marino has made it a priority to preserve Rome's ancient heritage, and last year he restricted traffic on Via dei Fori Imperiali - a road running from the Imperial Forum to the Colliseum. This year it will be off-limits to cars between 28 June and 31 August.
Use #NewsfromElsewhere to stay up-to-date with our reports via Twitter.