Canada: First Nations 'evict' Vancouver from city park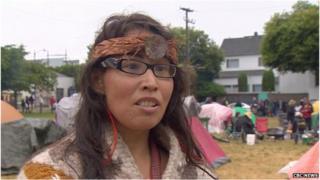 Homeless people camping in a Vancouver park have been facing eviction by the city council - but now Canada's First Nations say it's the officials who should go.
"We've decided to send an eviction notice to the city," says Brody Williams of Canada's Haida Nation, the Global News website reports. The notice comes after the campers were told to leave Oppenheimer Park at the weekend.
Williams says a recent court ruling shows some of Vancouver's land was never formally handed over to the Canadian authorities - and the First Nations still hold the title. "This is unceded territory, and we are very concerned about the way the city is treating the homeless here," he says. The Musqueam Nation also signed the notice, and a spokeswoman tells the Canadian Broadcasting Corporation many of the homeless are First Nation members.
It's the latest twist in a dispute over a development programme for Vancouver's Downtown Eastside neighbourhood. Protesters say the city isn't providing enough housing for people in need. But the city says it is trying to find decent housing for the homeless, and that camping in city parks is just not allowed.
Use #NewsfromElsewhere to stay up-to-date with our reports via Twitter.