Australia: 3D organs 'replace bodies' at medical school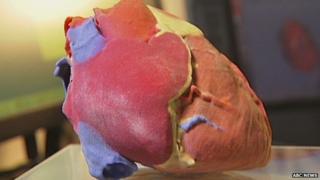 Scientists in Australia are using 3D printers to make copies of body parts for medical schools to use in anatomy classes.
The team at Monash University, Melbourne, has printed hands, feet, brains and hearts exact in every detail - except they're made of dry powder instead of human tissue. Professor Paul McMenamin tells Australia's ABC News these 3D kits could "change the future of medical education" by eliminating the problem of obtaining, handling and storing cadavers. The model "has all that a student would need to learn that particular part of anatomy," he says, adding it's a bonus that 3D printed organs can be made in artificial colours that will never fade.
Making a 3D-printed body part involves multiple CT scans of the real thing. Then the printing can take up to 12 hours, layer by layer - but it's easy to print out more later. "If you drop one and it breaks, you just order another and we press print," says McMenamin. In addition to being convenient, the 3D option might help hospitals in Middle Eastern countries, where doctors say there are taboos around donating and dissecting human remains. The Monash team hopes to have the anatomy kits ready for sale within six months.
Use #NewsfromElsewhere to stay up-to-date with our reports via Twitter.