Eva Peron's Cadillac Limousine to be sold at auction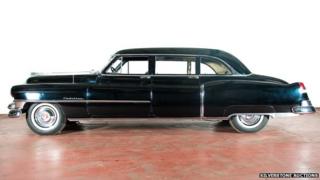 A 1951 Cadillac Limousine owned by the former Argentine president Juan Peron and his wife Eva is due to be sold at auction in the UK.
It was the official state car for the Argentine first lady, affectionately known as Evita, and has been valued at £200,000-£260,000, the Buenos Aires Herald reports. Inside, the auction house discovered a jewel that appears to have fallen off one of her dresses and it will stay with the car when it is sold. Staff at the Eva Peron Museum in Buenos Aires, where the car has been on display for many years, are reportedly trying to find out which dress it came from.
Evita was a very popular figure in Argentinean politics, and when she died of cancer at the age of 33 an estimated three million people lined the streets of Buenos Aires at her funeral.
Use #NewsfromElsewhere to stay up-to-date with our reports via Twitter.