Indonesia: Metal fans cheer Joko Widodo poll win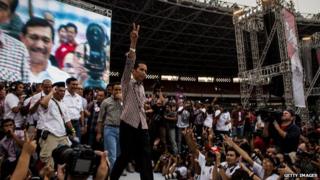 The winner of Indonesia's presidential election has been receiving congratulatory messages from an unlikely group of supporters - heavy metal music fans around the world.
Soon after Jakarta Governor Joko Widodo - widely known as Jokowi - declared victory on Tuesday, Randy Blythe, singer of the metal band Lamb of God, expressed his support on Instagram: "Incredibly, ladies and gentlemen, the new president of Indonesia is a metalhead and a Lamb of God fan," adding that Widodo is "the world's first heavy metal president". Another heavy metal band, Anthrax, posted a congratulatory message on Facebook, saying: "Now if only all other countries would follow suit."
Widodo, a former furniture-maker who grew up in a small village, is seen as a man of the people who comes from outside Indonesia's political establishment - which has traditionally been dominated by figures from the political elite and the military. Indonesian metalheads also hope that, with a president who is an open heavy metal fan, the genre will gain acceptance and popularity across the country, the Jakarta Post reports.
Use #NewsfromElsewhere to stay up-to-date with our reports via Twitter.