Spain: Royals' plane food budget to double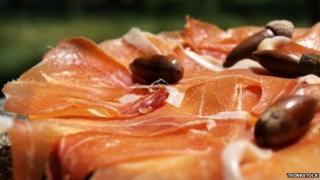 The Spanish Ministry of Defence has doubled its catering budget for a fleet of seven planes carrying Spanish royals, ministers and other senior officials, it seems.
The government's congressional record has said the annual budget is going up to 133,000 euros (£105,000) from 65,000 euros the year before, news website 20minutos reports, adding that it's not unusual for officials to end up exceeding the budget. The website suggests the final bill for 2014 could come in at around 414,000 euros.
Trays of peeled seasonal fruit, sirloin steak, Segovia suckling pig and Bilbao sea bass are among the 29 dishes on the menu - although it's reported that alcohol hasn't been served on board since 2012. Prices will be capped for some individual items - for example, the government won't pay more than 35 euros for a kilo of pecorino cheese - and some of the most expensive items have been taken off the menu altogether.
The new budget comes amid a defence department review of the fleet's maintenance procedures following two recent breakdowns, and may consider renewing some of the aircraft in the fleet.
Use #NewsfromElsewhere to stay up-to-date with our reports via Twitter.