France: Rare Sri Lankan leopards born in zoo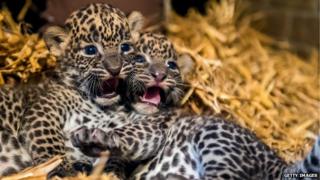 Two rare Sri Lankan leopard cubs have been born at a zoo in northern France, it is reported.
Only about 700 of the rare leopards, which have been classified as gravely endangered by the International Union for Conservation of Nature, are left in the wild, says Jimmy Ebel of Maubeuge Zoo, AFP news agency says. The cubs were born on July 1 and weighed around 2kg (4.4lb), reports say.
"These leopards are under great threat due to deforestation and poaching," Ebel says. About 60 Sri Lankan leopards are living in captivity, in zoos around Europe.
Leopards are the largest wild cats to roam Sri Lanka, and due to their geographical separation, have some different characteristics from Indian leopards, according to the Wilderness and Wildlife Conservation Trust.
Maubeuge Zoo in northern France is close to the Belgian border and houses about 300 animals including Asian elephants.
Use #NewsfromElsewhere to stay up-to-date with our reports via Twitter.