Germany: National team 'drops' paralympic champion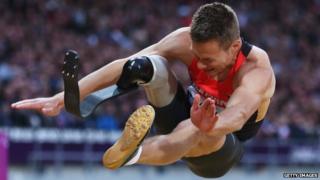 A Paralympic athletics champion has been dropped from the German national team ahead of the European Athletics Championships because officials suspect his artificial leg may give him an unfair advantage in the long jump.
The German athletics federation cut Markus Rehm loose, saying there was a "significant difference" between jumps with his blade-like prosthesis and natural jumps, the Associated Press reports. But the German body that oversees disabled sport says the decision is a "step backward".
"I find it a pity and disappointing," Rehm tells Der Spiegel newspaper, adding that he may appeal the decision. Rehm won the long jump at the national competition in Ulm with a leap of 8.24m (27ft). But he may have benefitted from an unfair "catapult effect" from his prosthesis, says Clemens Prokop, president of the athletics federation. He adds that it's not clear whether jumps made with a prosthetic blade could be compared with a natural joint.
In the long jump, experts question whether Rehm's leg may give him an advantage at two points: during his sprint down the track, and when he plants for the take-off into the jump.
Rehm, 25, had his right leg amputated below the knee after a boating accident when he was 14. He has the same kind of carbon fiber prosthetic leg as runner Oscar Pistorius. The disqualification adds to the debate about prosthetics in sport that Pistorius faced when he fought for - and won - the right to compete against able-bodied athletes.
Use #NewsfromElsewhere to stay up-to-date with our reports via Twitter.