Hot dogs and cold beer in Norway's far north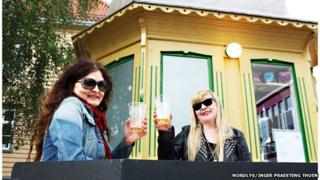 A hot dog stand in Norway's far north has turned itself into the country's tiniest pub - just in time for this week's Chess Olympiad.
The Raketten (Rocket) kiosk is an historic landmark in Tromso city centre, and has been serving sausages to hungry locals since May. Now its owners have relaunched it as a bar. At only 4.6 square metres (50 square feet) it has little room inside for more than a small kitchen, but the terrace can seat up to nine, reports Nordlys newspaper.
Despite being well inside the Arctic Circle, Tromso's drinkers prefer a chilled light ale with their hot dogs, though the Raketten also offers a sherry for visitors looking for something warmer to wash down their wieners. The local Mack brewery has come up with a special craft beer for the Raketten, and sausage maker Mydland has produced a wurst to the bar's own recipe. As there's only room for one tap, the owners have imported the latest US technology to deliver the beer fast - another first of its kind in Norway.
The first customers were local author Marry Ailonieida Somby and academic Britt Kramvig, who enjoyed the location and fare. "I think it will be good," Somby says. "It's lovely to sit here and watch the crowds go by. You won't miss anything on the Main Square or High Street."
Use #NewsfromElsewhere to stay up-to-date with our reports via Twitter.