Ukraine: Mobile network faces 'Crimean freeze-out'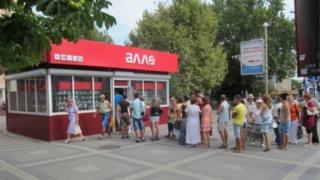 Ukraine's largest mobile phone network is ending its service in the Crimean peninsula - the region annexed by Moscow in March - amid a controversy over what prompted the move.
MTS-Ukraina says it's being forced out of Crimea, accusing Crimean authorities of cancelling its coverage in the regional capital, Simferopol. It's appealing to the other major Ukrainian networks - Kyivstar and Astelit - to provide emergency roaming for customers in Crimea "who have been illegally deprived of our services", the Novosti Kryma site reports.
But Crimea's communications chief, Dmitry Polonsky, says the carrier is quitting of its own accord, the Ukrainian Centre of Investigative Journalism reports. He's advised customers switch to Russian companies - on the same day that the Kremlin announced a certain K-Telekom will be providing services in Simferopol. Back in May, Russia transferred MTS-Ukraina's Crimean frequency bands and 3G coverage to K-Telekom, Vedomosti newspaper reports.
There are several K-Telekoms in Russia, and it isn't clear which one would start operating in Crimea. Russian and Western analysts think the firm could be one owned by Russia's own MTS mobile network - which also happens to be the parent company of MTS-Ukraina. Crimean reporter Roman Nikolayev thinks "it all sounds like noise to hide the fact that Russia's MTS is gradually taking over the equipment and customers of its Ukrainian filial MTS-Ukraina, through a second identity" and has suggested this could be a way for MTS to avoid US sanctions for operating in occupied Crimea. Neither Russian company has commented.
Use #NewsfromElsewhere to stay up-to-date with our reports via Twitter.