Greece: Universities told to drop 'eternal students'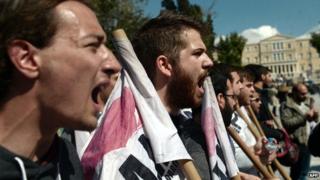 Greece's new education minister says he wants to put an end to the problem of "eternal students" - tens of thousands of people who have been enrolled at university for years without graduating.
Andreas Loverdos has ordered anyone who has spent longer than 11 years on courses that should last five years or less to be struck off all university registers in September - and he insists there'll be no extensions "for petty political reasons", Greek newspaper Ekathimerini reports. Loverdos says this could affect as many as 180,000 people, some of whom have been "studying" since the 1950s. OECD figures say fewer than 20% of Greeks graduate from university.
Loverdos insists the move shouldn't come as a surprise, saying that in 2007 a law was passed setting a 10-year deadline on obtaining a first degree. The university system was also reformed in 2011 - apparently to little effect. "Everybody has had a long enough time to prepare," the minister says. Although he admits these long-term students don't actually cost the state much money, he thinks cleaning up the records will help accurately assess universities' needs.
Greek higher education was badly hit by the country's economic crisis, which left students facing poor job prospects and triggered an exodus of Greeks to seek to work or study abroad. The country's universities are highly politicised and frequently wracked by staff strikes and protests against government spending cuts.
Use #NewsfromElsewhere to stay up-to-date with our reports via Twitter.