United States: New York ban on 'tiger selfies'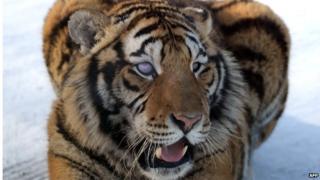 The state of New York has effectively banned the popular trend of taking "selfie" photos with tigers or big cats by saying people are no longer allowed near dangerous animals at zoos, circuses and carnivals.
The new law comes after the online-dating app Tinder saw a surge of photos - mainly of men - posting profile pictures of themselves next to tigers and other big cats. The phenomenon has come to be known as the "tiger selfie" - local website Politics on the Hudson reports. A report earlier this year from the Wall Street Journal estimates that one in 10 photos on Tinder has a tiger in it - perhaps because the men want to appear adventurous to potential partners.
But assembly member Linda Rosenthal, who sponsored the bill, tells the Daily News website the measure is there to stop animals from being exploited. Wildlife activists say tiger selfies encourage people to take cubs from big cats who are later neglected, mistreated and abandoned when they grow up. Similar laws are already in force in states such as Mississippi, Arizona and Kansas.
Use #NewsfromElsewhere to stay up-to-date with our reports via Twitter.