Saudi Arabia: World's tallest clock 'tourist attraction'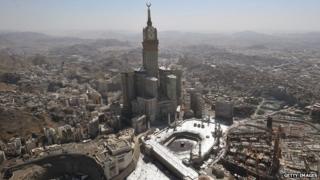 The world's tallest clock tower is to open to the public later this year, it's been reported.
The 601m (1,971 ft) Abraj Al-Bait tower, overlooking the Grand Mosque in Saudi Arabia's holy city of Mecca, will allow paying visitors to see the inside workings of the clock after the Hajj pilgrimage finishes in October, the Arab News reports. Entry to the clock tower will be by ticket only, local officials say.
While hundreds of thousands of people visit Mecca every year for pilgrimages, the tower has apparently revived secular tourism in the city. "The Clock Tower revived our business during the last three years," says Abbas Subhi, the marketing manager of one of the hotels in the Clock Tower complex. "Most visitors come only to stay in our roof to enjoy the panoramic view of the Grand Mosque," he says.
The Abraj Al-Bait tower was built on the orders of King Abdullah to be the tallest clock tower in the world, and briefly held the title of the world's tallest building - now held by the Burj Khalifa tower in Dubai. The dials of the clock are 39m across - more than five times the diameter of the 7m dials on the clock at the top of London's Elizabeth Tower, commonly known as "Big Ben".
Use #NewsfromElsewhere to stay up-to-date with our reports via Twitter.