Ramzan Kadyrov 'quizzes 1,000 Chechens' over lost phone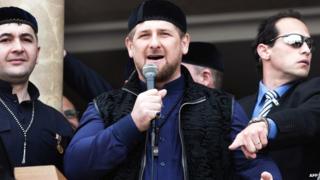 More than 1,000 people have been questioned by police into the night, apparently after Chechen leader Ramzan Kadyrov - known to be a prolific Instagram poster - mislaid his mobile phone at a feast.
At the end of a museum opening party, where Kadyrov was a guest, organisers announced the regional strongman had lost his mobile and bodyguards started moving through the crowd in search of it, human rights group Memorial says. Later, more than 1,000 people were reportedly called out to a police station for questioning - and were asked about where they were standing and whether they had seen any "ownerless items".
Kadyrov has dismissed Memorial's account as a "barefaced lie". In a post on his extremely popular Instagram account he said the phone in question belonged to the head of a dance troupe at the event, and has been safely returned to her. "I've no idea how many people they questioned," he says. "Whether it was a thousand or tens of thousands, it means they were doing their work." He adds: "As for my telephones, they are both in front of me, have a strong connection and show no signs of going missing."
Use #NewsfromElsewhere to stay up-to-date with our reports via Twitter.