Libya: Cruise ship hired as 'floating hotel for MPs'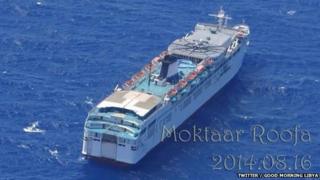 The Libyan government appears to have hired a cruise ship to serve as a "floating hotel" for politicians and journalists ahead of a vote of confidence on the interim government.
The boat, which was recently spotted in the port of Tobruk, was hired as a temporary residence for members of the newly-formed House of Representatives - but the politicians have refused to move in, the Libya Herald reports. But other reports say the ship will house members of the press and other guests attending the vote.
"The floating hotel is a special ship which will host the parliament's escorts and journalists," says Faraj Najem, head of the Parliamentary Settlement Committee. "The deputies will stay at the Dar Essalam hotel in Tobruk, and not on the ship." He says the boat was hired because Benghazi doesn't have enough hotels for everyone.
Libya's interim government was formed in May. The country has been hit by instability since long-time ruler Col Muammar Gaddafi was overthrown in October 2011. Recently, Libya has been wracked by violence as different armed groups compete for influence.
Use #NewsfromElsewhere to stay up-to-date with our reports via Twitter.