China's Taobao offers 'virtual girlfriend service'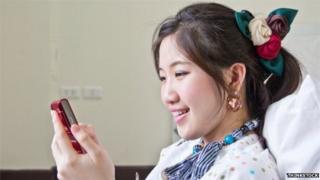 China's leading online shopping website Taobao is offering men the chance to buy the companionship of a girlfriend for as little as $2 (£1.20) a day, it seems.
The girlfriend service involves a hired employee calling or texting the customer to wake him up in the morning, say good-night before bed, and sympathetically listen to his complaints at any time of day, Taiwan's Want China website reports. "You just spend 20 to 30 yuan (£2-3) to make a single man's dreams come true!" one customer says. Female nurturing is not the only service on offer. A virtual boyfriend can also be hired, and customers can choose their type from a list of personalities - such as men in uniform, chief executive, handsome men and comforting men.
But being a virtual girlfriend can be quite tiresome, one employee Xiaomi says. She's lost sleep making early wake-up calls and always has to keep an eye on her phone. Most of the customers reportedly buy the service just for a day out of curiosity, but it appears to be a growing market. Virtual partners are just one of the unusual things on sale on Taobao - with drones, live scorpions and breast milk soap also available.
Use #NewsfromElsewhere to stay up-to-date with our reports via Twitter.