India: Ancient university reopens after 800 years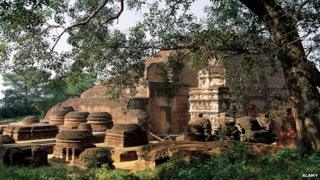 An ancient Indian university has reopened 800 years after it was destroyed in an invasion, it's been reported.
Nalanda University, in the eastern state of Bihar, was first established in the 5th Century during the Gupta dynasty. It was was said to have attracted thousands of scholars and thinkers from around the world but the site was destroyed in the 1193 AD by an invading Turkish army. The new campus is set to be spread over 443 acres (179 hecatares) about 15km (9 miles) from where the original university stood, the Times of India reports.
But the institution is reopening with just a handful students and about 11 members of staff, the Indian Express newspaper says. Vice-chancellor Gopa Sabarwal says: "Over 1,000 students from 40 countries have sought admission in Nalanda University. But only 15 students have been selected, including one each from Japan and Bhutan and others from India," More students will be enrolled in September she adds.
Meanwhile, construction on the new university campus is behind schedule. It's due to be finished in 2020 but work reportedly hasn't started yet, and courses are being taught in a local conference centre for the moment, the Hindustan times reports. Eventually, Nalanda will have seven schools and offer courses in science, philosphy and spirituality, and social sciences. The university is funded by the Indian government and backing from the 18 East Asia Summit (EAS) countries, including China, Singapore and Australia.
Use #NewsfromElsewhere to stay up-to-date with our reports via Twitter.