Poland: Wroclaw ordains first rabbis since WWII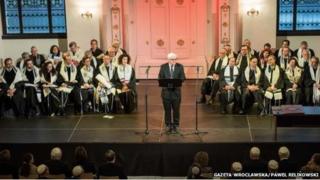 Four rabbis have been ordained in the Polish city of Wroclaw - the first such event since World War II.
The rabbis and three cantors - singers who lead parts of religious services - were ordained as part of a German-Polish commemoration of the outbreak of war, the Gazeta Wroclawska newspaper reports. "We are witnessing an event that would have been inconceivable a few years ago," says German foreign minister Frank-Walter Steinmeier. "Almost on the precise anniversary of Germany's criminal attack on Poland 75 years ago, Germans and Poles are expressing their joy together at the rebirth of Jewish life in Wroclaw."
At Wroclaw's White Stork Synagogue - the only one that survived Nazi destruction - Jewish community leader Alexander Gleichgewicht replied: "We, the modern Jews of Wroclaw, and guardians of the tradition of the Jews of Breslau, welcome you." As the German city of Breslau, it had a large Jewish population dating back to the 12th Century - and the first major Jewish theological seminary in Europe. But the community of about 20,000 people in 1933 was wiped out to a few thousand by 1945.
Anti-Semitic policies in Communist Poland forced almost all the remaining Jews to emigrate, leaving fewer than a hundred in the city by 1990. Since then the Jewish community has seen some revival, but still numbers few more than a thousand. New Rabbi Jonas Jacquelin tells German Deutsche Welle radio the symbolism of the ordination was paramount: "Here, where they tried to exterminate us, new rabbis are being ordained to continue passing on the Jewish tradition, from generation to generation."
Use #NewsfromElsewhere to stay up-to-date with our reports via Twitter.