Ice bucket challenge boy 'fined' for nominating leader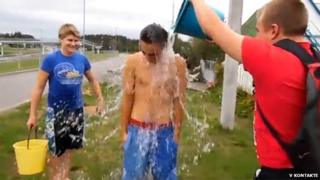 A Belarus boy may be fined for daring President Alexander Lukashenko to an ice bucket challenge, reports say.
Dmitry Dayneko uploaded a video of himself doing the popular online challenge and nominating the country's long-serving president to follow suit.
But he was soon called in to the local youth affairs office and his school in Berezino and told off, the Belarusian service of Radio Liberty reports.
Police said everyone in the video would be fined unless they took it down.
Dimitry says he was told he'd "done something against Lukashenko". But he says: "It was just a stunt. It's just a game. We just wanted to start things off, to see what happens, maybe we'd be lucky."
Belarus' government keeps a wary eye out for any signs of opposition, and Dmitry says the officials mentioned "getting a call from the capital". His parents weren't impressed either, it seems. "They said I was stupid, that I shouldn't have challenged Lukashenko. That's all," he says.
Millions of people have joined in the ice bucket challenge, in which they pour water - often with ice cubes - over themselves and challenge others to do the same, usually to raise money for the treatment of Amyotrophic Lateral Sclerosis (ALS).
Use #NewsfromElsewhere to stay up-to-date with our reports via Twitter.