Thailand: Coup leader Gen Prayuth alleges black magic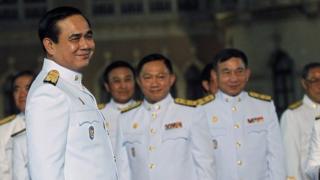 Thailand's military leader and premier, Gen Prayuth Chan-ocha, has accused critics of using black magic against him, it's reported.
In a high-profile speech on Thursday, Prayuth says he'd been warned of attempts to cast a spell on him, the Bangkok Post newspaper reports. "Today, I have a sore throat, a pain in the neck," he says, speaking to officials at the Royal Thai Army Club in Bangkok. "Someone said there are people putting curses on me."
The general also says he performed a purification ritual to ward off possible evil influences - but hadn't counted on the side effects: "I had so much lustral water poured over my head, I shivered all over," he explains. "I'm going to catch a cold now."
In May, Prayuth led a coup against the elected government, saying he needed to restore order after months of mass protests. But opponents say the military is suppressing democracy and they are defying a ban on public gatherings. Prayuth addressed his critics: "If you still want to fight on and go underground, bring it on. If you resort to performing rituals, just bring it on."
Magical symbolism has long played a role in Thai politics. During the last big wave of protests in 2010, anti-government demonstrators splattered buckets of their own blood outside the PM's residence as priests cast a curse on the authorities.
Use #NewsfromElsewhere to stay up-to-date with our reports via Twitter.