Bosnia: Mostar map to fight 'litter plague'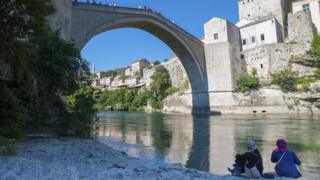 Residents of the historic Bosnian city of Mostar are so fed up with the lack of bins that they're creating their own online map to help tourists find somewhere to put their rubbish, it's reported.
Locals complain that the streets of the old centre are often covered in litter, and say tourists wandering around in search of a bin have become a common sight in the town famous for its soaring 15th-Century Ottoman-era bridge, Al-Jazeera Balkans reports. "There's a problem, and it's huge," says shopkeeper Selma Jelovac. "Every evening five people ask me why there are no rubbish bins." One tourist jokes that she'll have to take her empty bottle back to her home town nearly 300km (180 miles) away because she can't find anywhere to throw it.
Apparently it's all part of a wider political problem that goes back years. Mostar has three utility companies, and all say purchasing new bins is the council's responsibility. Residents in one district say household rubbish is piling up outside their homes, the local news website Bljesak reports.
Until 2004, the city of Mostar was divided into six municipalities under a deal between ethnic Croats and Bosniaks (Bosnian Muslims) at the end of the civil war of the 1990s. But Berislav Juric of Bljesak thinks this legacy is no longer an excuse. "Rubbish bins are something that humans in 2014 should have under control," he tells Al-Jazeera.
Use #NewsfromElsewhere to stay up-to-date with our reports via Twitter.